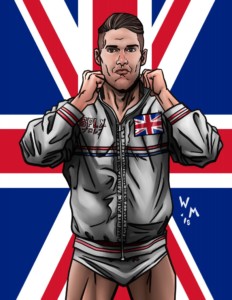 Since 2011, Filsinger Games has been producing game editions for some of the biggest promotions in indie wrestling.  Some fantastic wrestlers have been included in these game editions over the years, but often there are wrestlers that are popular among a number of promotions that Filsinger Games has not worked with.  The newest Indie wrestling game line will help find a home for wrestlers that game fans are itching to see and may not be released through other partnerships.  This summer we release the first Best of the Indies game edition!
This first Best of the Indies game edition will focus on talent that has built their reputation in the United Kingdom.  While each of the 8 wrestlers have made their name in the UK, each of them have wrestled in the US and throughout the world.  The first name we are happy to announce for this set exemplifies that global presence…Zack Sabre Jr.! Sabre was first part of the Evolve 2 set, but has continued to build up his profile among some of the major pro wrestling organizations in the UK, US, and Japan.  This newly updated card will highlight his current move set and stature in the wrestling world.
Best of the Indies: United Kingdom will feature 8 cards, including mostly wrestlers making their debut in the Filsinger Games universe.  The set will debut on July 14th at GalactiCon in Pittsburgh, and begin mailing worldwide soon after that. Join us in Pittsburgh for the exclusive first release!