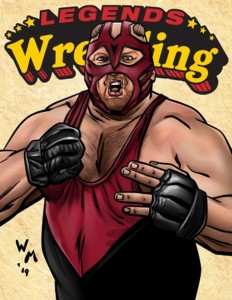 Big Van Vader was  one of the dominant superheavyweights of all time.  He earned championship gold around the world and his rivals read like a Hall of Fame listing.  Think of all the epic matchups that can be recreated now that Big Van Vader is part of the Legends Roster!
One thing is sure:  your title picture just got a lot more interesting!  Big Van Vader is coming to your Legends of Wresting fed this December. He joins the British Bulldog, Val Venis, Mr. Hughes, the James Gang and the Disco Inferno as part of Legends Expansion Pack V.  Keep watching for more names to be announced in the coming weeks in this exciting set!
Preorders are now available for Legends Expansion Pack V, the Teddy Long Legends Commissioner card and the colorized version of GWF Invasion 2089!  To preorder now CLICK HERE.
Preorders made by December 16th will be mailed by December 17th.  Any Filsinger Games orders made between December 17 to 25th will be mailed on December 26th.