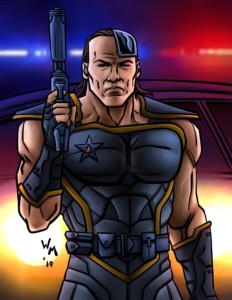 The gloves are off! In 2088 the villain team introduced Bishop Hell to the GWF. In 2089 they've announced the arrival of the Mad Jester! And now Omega and the FDF has seen enough! The GALACTIC PUNISHER is a no nonsense galactic cop from Cetus, and he's ready to hand down the VERDICT and LIFE SENTENCE to rule breaking bad guys!
Preorders are now available for Legends Expansion Pack V, the Teddy Long Legends Commissioner card and the colorized version of GWF Invasion 2089!  To preorder now CLICK HERE.
Preorders made by December 16th will be mailed by December 17th.  Any Filsinger Games orders made between December 17 to 25th will be mailed on December 26th.