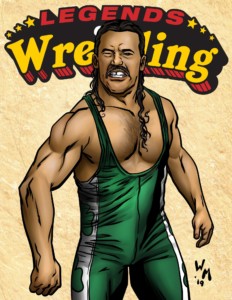 When it comes to tough as nails fighters in wrestling, few come as rough and tough as Northern Ireland's own Fit Finlay.  Fit got his start out in the British wrestling scene, before making his way to the major league promotions in the US in the late 90's.  He is sure to give any wrestler in your Legends fed a hard fight and enjoy himself while doling out that punishment.
Fit Finlay is coming to your Legends of Wresting fed this December. He joins Big Van Vader, Davey Boy Smith, Val Venis, Mr. Hughes, the James Gang and the Disco Inferno as part of Legends Expansion Pack V.  Keep watching for the last 2 names in this 10 card set!
Preorders are now available for Legends Expansion Pack V, the Teddy Long Legends Commissioner card and the colorized version of GWF Invasion 2089!  To preorder now CLICK HERE.
Preorders made by December 16th will be mailed by December 17th.  Any Filsinger Games orders made between December 17 and 25th will be mailed on December 26th.