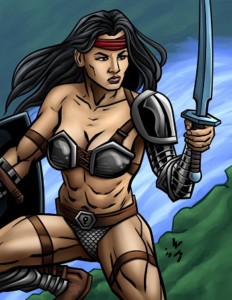 Amazonia comes to the GWF after being hunted throughout the cosmos by dastardly villains Reynard B. Guile and his Bounty Hunter! But Wolf has taken it upon himself to protect her! The most intense new feud in the GWF just got personal!
But there's more! Amazonia comes equipped with an awesome new game chart specifically designed to counter Reynard B. Guile in matches pitting Wolf vs the Bounty Hunter! WOOOOOOOOO!
Preorders are now available for Legends Expansion Pack V, the Teddy Long Legends Commissioner card and the colorized version of GWF Invasion 2089!  To preorder now CLICK HERE.
Preorders made by December 16th will be mailed by December 17th.  Any Filsinger Games orders made between December 17 to 25th will be mailed on December 26th.