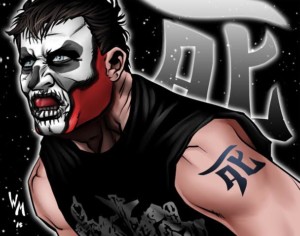 Blind Rage has a long history with Chikara dating back to the very first show.  In the early days he formed a faction with the Nightshift, Hallowicked and Ichabod Slayne.  After an on and off Chikara career he finds himself partners once again with Hallowicked on the Nightmare Warriors team that is taking part in Challenge of the Immortals!
The Forgotten Monster, was resurrected a few years ago by his sometimes rival and sometimes partner UltraMantis Black.  Hallowicked, in his war against Mantis, has turned Blind Rage against him again.  Will the undead monster help the Nightmare Warriors gain immortality?
The big Chikara Immortals 8-pack will begin mailing on December 14 and you can pre-order on November 22! This holiday season will be a game-playing dream…with some nightmares thrown in!