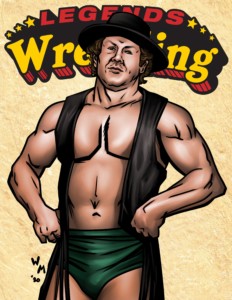 The next wrestler to join the Legends Expansion Set VI line is Bob Orton Jr., who was one of wrestling's great heels of the 1980s. Part of a famous wrestling family, Orton made a name for himself as a rough and tough wrestler who was not above resorting to certain "tactics" to win his matches.  Tasting success in Florida and the south, he would eventually find his way to one of wrestling's major leagues located in the northeast. And it was here that Orton, Jr. truly found fame.
It was during a feud with fellow Legend Jimmy Snuka that paved the way for perhaps Orton Jr.'s most famous partner…. his cast! Orton, Jr. broke his arm battling Snuka in a match, which resulted in the need for him to wear a cast. Only, Orton, Jr. kept this cast on his arm way beyond when he needed to, allowing for him to be able to use it as a weapon to bludgeon his opponents. The Cowboy was a successful singles wrestler, contending for major singles titles throughout his career, but may be best known for his partnerships over the years, either as a body guard or tag team partner.  Who will Bob Orton Jr. partner with in your fed?
Cowboy Bob Orton Jr. joins Koko B Ware, The Barbarian and The Warlord in Legends Expansion VI.  The set will be available in December and will begin preorders on Friday November 27th.  Stay tuned each Friday for additional Legends that will be joining this game edition.