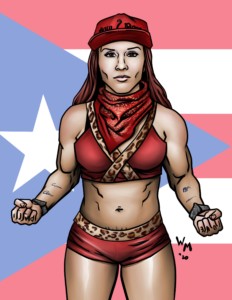 Puerto Rico's Ivelisse brings a ton of star power to your fed. The fireball of energy and talent just wins matches wherever she wrestles.
"La Sicaria" has worked for the top groups in Mexico and other Lucha Libre promotions and is also well renown throughout the US, wrestling on TV for almost every major company. She has won singles, tag team or trios gold multiple times in her career and is sure to collect more accolades in the future.  Anyone going after championships or trying to hold on the belt in your promotion is going to have to deal with Ivelisse.
Ivelisse joins Leyla Hirsch, Kylie Rae and 5 other women in the Women of the Indies 2020 game edition.  The set will be available in December and will begin preorders on Friday November 27th.  Stay tuned each Wednesday for more previews of who will be in this amazing game edition.