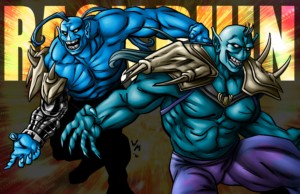 Battle Lines Are Drawn At The Crossroads Of The Galaxy!
The spirit of competitiveness on Kronos has succumbed to natural forces of good and evil with the arrival of Infinity and Infinity-Plex! New heroes and villains arrive at the Crossroads of the Galaxy for a war on Kronos! Whose side are you on, promoter!?
Battle Lines will be December and will begin preorders on Friday November 27th.  Stay tuned each Monday for more sneak peaks and clues about this exciting new Champions of the Galaxy game edition.