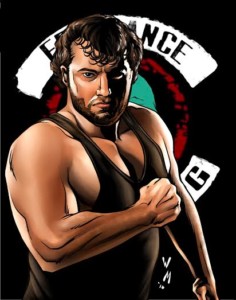 Craig Mitchell  is a skilled amateur-style wrestler from Chicago that has surprising agility for a big man.  He debuted for Freelance Wrestling on their first show.  Since then he has been tied to Freelance Champions Isaias Velasquez.  First the two had mutual respect and teamed together, before Velasquez turned on Mitchell.  Eventually Mitchell realized he was better with Velaquez than against him, and helped Isaias win the Freelance Title and has been supporting him as part of Team Beta Training ever since.
How will Craig Mitchell fare in your Freelance Wrestling fed?  Will he align with Isaias Velasquez, or will he challenge him to be the top dog in Freelance?  It'll be exciting to find out when you play!
The Freelance game pack debuts at the Freelance Wrestling show on March 11 in Chicago's Bottom Lounge entitled "Beautiful Disaster."  Games will begin mailing shortly after so get psyched! You are about to experience Chicago "punk rock" wrestling! How will Freelance fare against other regional promotions like Inspire Pro (Texas) and AIW (Cleveland)?