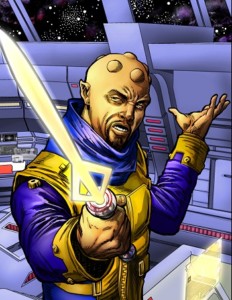 You thought it was over but it's not!
ORIGINS 2136 will see the shocking debut of SABER, a man not to be trifled with.
SABER is targeting none other than the Perfect Specimen as he seeks to assert his superiority in the name of CTA-102!
Are you wondering about the secret history of this long-standing rivalry between the Titans and CTA-102? The questions will be answered in ORIGINS 2136, the most incredible Champions of the Galaxy game edition to date!
Can the Perfect Specimen and Lord Nexus withstand the onslaught of SABER?
ORIGINS 2136 is due for release in July! Pre-orders will begin soon, watch for details!
THIS IS THE BIG ONE!