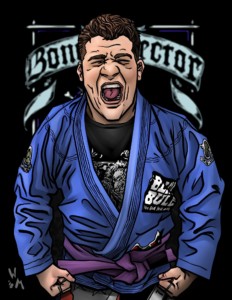 Kicking off the 5th Edition of the EVOLVE game is the newest member of the Catch Point faction, "The Bone Collector" Dominic Garrini!
Before entering the professional wrestling world, Garrini was an accomplished Brazilian Jiu Jitsu fighter, attaining a purple belt over the course of his many years of training.  He decided to enter the wrestling world and was trained by Johnny Gargano and Candice LeRae at the AIW academy.  After proving himself in AIW he began branching out to other independents.  In October he made his in-ring debut for EVOLVE and was quickly brought into the Catch Point stable, a natural fit given his grappling background.  Garrini is acting as the enforcer of the group and has been tagging often with Catch Point leader Tracy Williams.  Dom will no doubt continue to improve and be a force in EVOLVE for the foreseeable future.
Dominic Garrini will join 7 other wrestlers in EVOLVE 5.  The game will be released at the WWN Live Experience in New Orleans in April and will mail out to Filsinger Games fans worldwide soon there after so get psyched!