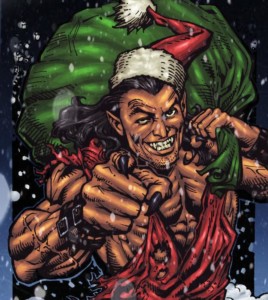 Santa Wolf and the whole Federation Headquarters staff is getting ready for an incredible holiday season of new game releases.  Teasers will start the week of October 26th, but game fans will have an opportunity to get a sneak peak of what to expect on Sunday October 25th at the first ever Filsinger games Holiday Kickoff event!
After the successful GalactiCon weekend, Filsinger Games is looking to do more online interactive events and this event will be the first in that series.  Unlike GalactiCon this event will be free to attend and will not only give fans a sneak peak at whats to come in December, but also the opportunity to win free games!  When you register, you will have the opportunity to select what tournament you would prefer to enter if any.  The tournament field will be picked at random among those that register and choose that tournament.  The winner of each tournament will get their choice of game edition for free from that product line, including the upcoming Holiday releases.  Once the tournaments are over we will have a special virtual press conference to talk about each holiday release and debut the first characters and artwork.  These names and artwork will be shared the next day on filsingergames.com and our social media.
Here is the lineup for the event on Sunday October 25 (All times are Eastern Daylight Time):
2:00   Indie Tag Team Tournament (8 spots)
3:00   Legends Hall of Fame Tournament (10 spots)
4:00   Champions of the Galaxy Tournament of Champions (16 spots)
5:00   Filsinger Games Holiday Release Virtual Press Conference (Indies, COTG, Legends)
During the tournaments, all registered game fans can watch all the action or go to separate themed breakout rooms to chat on their own.  After the press conference is over game fans can stick around to continue interacting with fans and playing their own tournaments.  There is a major Pay Per View that evening, so fans can watch together virtually.  Its sure to be an afternoon and evening filled with fun, surprises and great conversation.
Spots for this holiday kickoff are free, but limited.  To register go to this Zoom Registration page.