Filsinger Games' holiday releases are now available for preorder.  This includes the much anticipated Legends Expansion Set X, along with 2 Legends special edition cards and special edition cards for the Independent Wrestling and Champions of the Galaxy game lines.  To order any of the holiday releases visit the New Releases page of the website.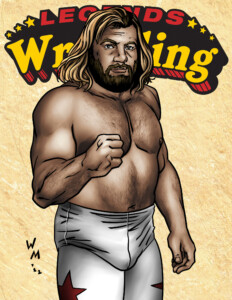 Legends Expansion Set X is focused on wrestlers from the Northeastern US, and few in that area were bigger, literally or figuratively, than Big John Studd.  Trained by Killer Kowalski and facing a roster of opponents that included Gorilla Monsoon and Bob Backlund, Big John Studd has a legendary career in multiple territories- but it was his time in the Northeast that really helped cement that legend. Managed by Freddie Blassie and later Bobby "the Brain" Heenan, Studd was involved in multiple high profile feuds even having a headlong match at the one of wrestling's most historic super cards against Andre the Giant in 1985.  Studd also teamed with King Kong Bundy for a time and battled names like Hillbilly Jim and for the tag titles against British Bulldogs – Dynamite Kid and Dave's Boy Smith. Studd would leave the squared circle for a time and upon his return, turned his back on Heenan and feuded with an old adversary as a good guy before hanging up the boots for good.
Big John Studd joins Pat Patterson, Eric the Red, Tony Garea, Mr. Fuji and Mr. Saito in the 12 card Legends Expansion set X.  More names will continue to be announced in the coming weeks.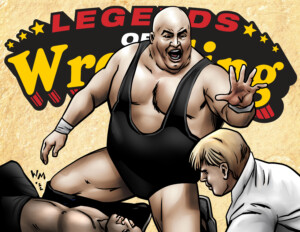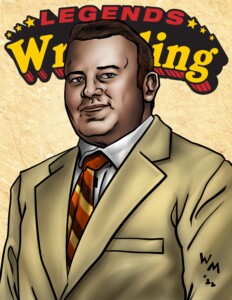 Also available to preorder are 2 Legends Special Edition cards.  First is a new card for Big John Studd's tag team partner King Kong Bundy.  This card features new art and revised stats from the previously available numbered limited edition card.  Also available is a game card for legendary manager Arnold Skaaland.  Skaaland was the manager of multiple long-reigning World Champions including Bob Backlund.  Skaaland's game card features wrestling stats from his time in the ring and a distractor rating for the rare times that he looks to interfere in a match.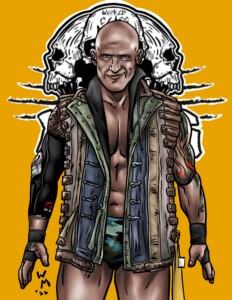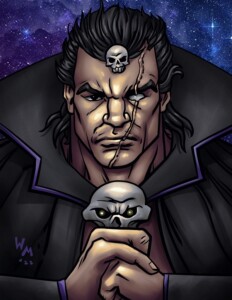 Independent wrestling fans also have the opportunity to preorder the latest Indies Special Edition card for Eric Young.  This Canadian born wrestler has long been a fan favorite.  While earlier in his career he was more known for his comedic presence, Young continued to develop his career and was able eventually win a World Championship.  Eric later went on to make a name for himself in the biggest wrestling company in the world as the leader of an infamous faction.  Eric Young will surely be a force to reckoned in any independent promotion.  Will he start a new faction or go on his own in your promotion?
Champions of the Galaxy players also have a special edition card available to order for the Evil Gamemaster Thantos.  This card is an alternate art that represents his peak in 2087.  Stats are altered from his original color card to fit with today's standard rules.  Please note that if you preordered War Games 2093 Reimagined prior to its release in early October you were sent this card as a free bonus.
Stay tuned to FilsingerGame.com in the coming weeks for more announcements on Legends Expansion Set X and other game releases.