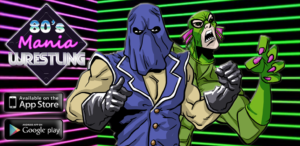 Filsinger Games, producers of cards and dice wrestling games for 30 years, has announced a partnership with Checkmate Creative, producers of the 80s Mania Wrestling game app.
Checkmate Creative is a digital production company owned by Kris Osk. "Kris has been part of the Filsinger Games team for years and I'm delighted to partner with him on his exciting game venture," said owner Tom Filsinger.
Checkmate Creative has recently launched 80s Mania Wrestling, which is a pro wrestling business/booker sim and collectible card game, set in pop culture's greatest decade.
80s Mania Wrestling is available now for free at the App Store and Google Play store.
Regarding a partnership with Filsinger Games, owner and game creator Kris Osk said, "To know that 80s Mania Wrestling has Filsinger Game's stamp of approval is thrilling, especially considering their longstanding reputation and vast reach throughout the wrestling game space."
Filsinger Games has released cards and dice games since 1986 as well as expanding into the digital game market. In addition to their original game, Champions of the Galaxy, the company releases licensed games for professional wrestling promotions including Ring of Honor, Evolve, Shimmer, and Chikara.
"There is a natural connection between Filsinger Games products and 80s Mania Wrestling," Tom Filsinger said. "Kris and I believe there are other cross-over opportunities for both brands. So keep an eye on things in the upcoming months!"
For more information about Filsinger Games go to: FilsingerGames.com and for more information about 80s Mania Wrestling go to: 80sManiaWrestling.com
PROMO VIDEO: https://www.youtube.com/watch?v=QvO_euwC6Lk