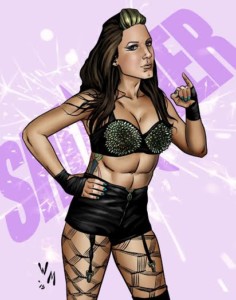 Allysin Kay made her debut in Shimmer in 2012 and now she says she's ready to make it to the top! She's going to get her chance with her game card being featured in the upcoming Shimmer 3 pack!
Allysin had a great start in Shimmer, winning against a team that included Veda Scott  (in tag action), along with victories in singles action against competition such as Thunderkitty.
Allysin also debuted for Ring of Honor in 2012, which means you can add her to the women's bracket in that great promotion. If you're a Ring of Honor fan, you'll want the upcoming Shimmer 3 game pack!
Shimmer 3 is due for release in October. Keep watching for details and don't miss more sneak previews for the lovely ladies coming every Monday night!