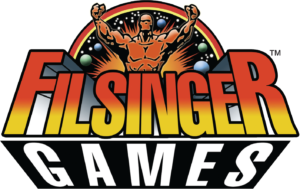 The next virtual convention for Filsinger Games is coming in 2 weeks on Saturday January 23rd. This is our big start to 2021 and just like the GWF starts off each Champions of the Galaxy year with a Perennial, so will Filsinger Games!
The Filsinger Games Perennial will be a ticketed event like our virtual GalactiCon was this past summer. All convention attendees will receive a limited-edition game card that will not be available after the con. Like GalactiCon there will also be a separate ticket option for those that do and do not want to play tournaments.  Owner and creator Tom Filsinger will also be there to meet and speak with game fans in the Dark Menace's Lair during the afternoon.
Here is what to expect on January 23rd (all times Eastern US):
10:30 AM – 11:00 AM: Convention Opening
11:00 AM – 4:00 PM: Tournament Preliminaries and Special Discussion Rooms (including the Dark Menace's Lair)
4:30 PM – 8:00 PM: Q&A with artist Werner Mueck, Panels and announcements for Legends, Indies and Champions of the Galaxy, Legends Trivia, Tournament Finals and the 2021 Perennial Championship
On Monday January 11th tickets will be available to purchase. Also, on Monday a detailed schedule of events for the convention will be shared so you can best plan your day.
Be sure to clear your calendar. You will not want to miss the first ever Filsinger Games Perennial event!