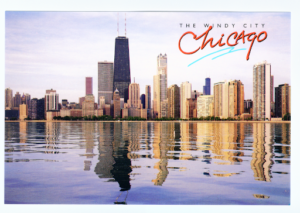 This year the Filsinger Games GalactiCon convention heads the farthest west that it ever has, to the Windy City itself CHICAGO!  This was the original location of GalactiCon 31 in 2020 before the convention shifted to fully virtual.  There is a full weekend of events planned and GalactiCon is the weekend before the Pro Wrestling Hall of Fame Induction in Waterloo, Iowa.
The 2-day event will take place Saturday July 16 from 10AM to 5PM CDT and Sunday July 17th from 10AM to 2PM CDT.  It will take place at the Holiday Inn Chicago O'Hare Area, 5615 N Cumberland Ave, Chicago, IL 60631.  The hotel has free parking and shuttle from O'Hare Airport, plus is in walking distance from the Chicago Subway and Greyhound bus terminal.
The Friday night outing will be to AAW, which is the premiere independent wrestling promotion in Chicago.  A special package will be available to GalactiCon guests which will include transportation to and from the convention hotel, a ticket to the show and an exclusive game card.  Tickets for the convention itself and the AAW show will be available at a later date.
A room block has been set up for Filsinger Games for Thursday July 14, Friday July 15 and Saturday July 16.  Either call the property at (773) 693-5800 and ask for the "Filsinger Games" group or book online using this link: HOTEL WEBSITE BOOKING LINK
For more details on the GalactiCon Convention, including a schedule of events for in person and virtual attendees, check out the Official GalactiCon 2022 webpage.