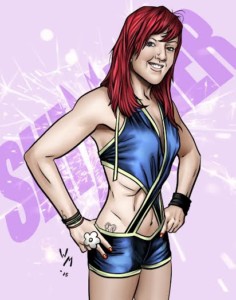 Yet another  international star joins the Shimmer volume 3 roster. Kay Lee Ray has won over fans with her exciting and often times death-defying offense. Kay Lee Ray is known as the "Hardcore Daredevil" for good reason, having gained notoriety across Europe for her incredible balcony dives.
Kay has made a quick impact in SHIMMER, winning the 2015 Chickfight Tournament. That tournament win garnered her a championship match, but she lost against SHIMMER title holder Nicole Matthews. But as far as she's concerned that won't be her last shot at the illustrious title!
Shimmer V3 starts shipping on October 15. Order NOW to get it mailed on time (maybe earlier!) and the Diva Revolution will invade your home! Go here to order and get caught up on ALL our latest releases! The name of the game is PLAY!