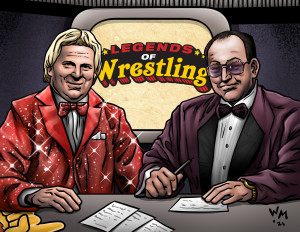 One of the most legendary voices in professional wrestling history is coming to Legends of Wrestling! Gorilla Monsoon makes his LoW debut alongside his longtime broadcast partner, Bobby "the Brain" Heenan. This unique card gives promoters the chance to have Bobby and Gorilla host your very own studio show. Never-before-seen mechanics will spice up your fed in ways that will have you saying "will you stop?!" as the fun gets out of control.
Robert James "Gino" Marella was born in 1937 and made his professional debut at the age of 20 billed at 6'7" and nearly 350 pounds. Within 6 years, he had transitioned to the terrible Gorilla Monsoon character – hailing from Manchuria, eating raw meat, and speaking no English. This character propelled him into the spotlight and into a feud with Bruno Sammartino at Madison Square Garden. Eventually, his in-ring career began to wind down and he found a place in the broadcasting booth becoming the voice of the biggest promotion in the country. His eventual partnership with Bobby Heenan became one of the most iconic duos in wrestling history and is generally considered the standard-bearer for a two-man booth in wrestling to this day. Taking a backseat to the announcing booth, Gorilla became an on-air authority figure for a time before decreasing his presence due to growing health issues. He appeared on screen in the announce booth one final time 2 months before his passing in October of 1999.
The team of Gorilla Monsoon and Bobby Heenan co-hosted a popular wrestling program for over 5 years and this new card brings that duo into your hands, promoter.  It is available as part of the Legends Ringside Personnel 4-Pack that also includes Gary Michael Cappetta and Bill Apter.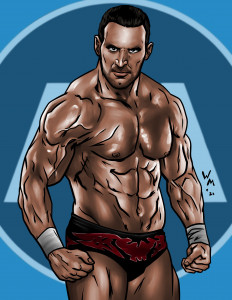 Debuting on the national stage at the young age of 22, Chris Masters has had a nearly 2-decade career wrestling for the biggest promotions in the country – most recently winning the secondary title in the oldest promotion in the US. His feared finishing hold, the Master Lock, has put away some of the biggest names in all of wrestling. Recently, he's teamed with fellow indie standout Thom Latimer as part of the Strictly Business stable. Across the ring, he's locked horns with Jake Something, Uhaa Nation, and Killer Kross, to name a few. Chris Masters has no problems breaking the rules and bringing his powerhouse physique to bear on all comers in order to secure the win and take home gold.
Hold your own Master Lock Challenge Series when Chris Masters comes to your fed in the new Best of the Indies 2021 Expansion!
Both the Legends Ringside Personnel 4-Pack and the Best of the Indies 2021 game edition are now available for preorder HERE.  Games will begin shipping in late May.