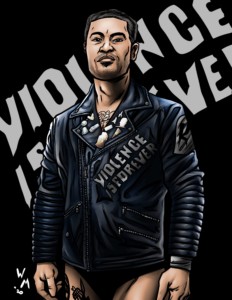 The 3rd quarter of Indies Prime 2020 will be a companion to our Best of the Indies Tag Team 2020 set coming out this September.  Each of the 3 cards in the Indies Prime release will be wrestlers who have a regular tag team partner in another Indie game edition.  So that is 3 more tag teams for your indie promotion!
The first of the 3 cards will be Kevin Ku, who is 1/2 of the Violence is Forever tag team with Dominic Garrini (who appeared in EVOLVE 5).  Ku was trained by at the New England Pro Wrestling Academy, but now resides in Nashville and is a staple of the southern wrestling scene. He still often makes appearances in Beyond Wrestling, focusing mainly on his tag team with Garrini.  The duo has been regarded as one of the top tag teams in the indies, voted as IWTV tag team of the year in 2019.  Violence is Forever will look to further raise their profile on a national platform once more live wrestling is able to happen again.  Kevin Ku is certainly someone to keep an eye on in the coming year!
Stay tuned next Wednesday for another tag team in the Best of the Indies Tag Team 2020 set, and in 2 weeks for another wrestler in Indies Prime Q3.