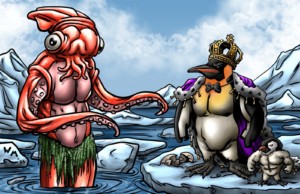 It's official! KING TUX and CEPHALOPODIS have a new tag team name – Arctic Empire! And they have a new tag team finisher too – GLACIER SIDE! But that's not all that's new with Arctic Empire.
That's right!  King Tux's prized egg has hatched! Meet Prince Flurry! Prince Flurry remembers how Mayham treated him when he was inside of that egg. Now it's go time!
The AniMan versus AniMan feud heats up in FTR 3 with the rise in the ranks of Arctic Empire and the arrival of Prince Flurry!
FTR Set 3 will debut in December and preorders begin Black Friday November 26th.