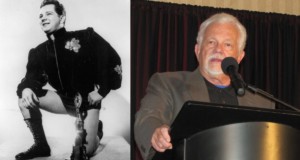 The next Filsinger Games virtual convention, The Filsinger Games Perennial 2022, will be Saturday January 29th and will feature a very special guest.  Pro wrestling legend and legendary wrestling commentator and trainer Les Thatcher will be joining the convention to do a special Q&A.  Les Thatcher wrestling throughout multiple territories in the 60's and 70's, winning multiple championships in NWA Mid-America.  Les followed his in-ring career with a remarkable career outside the ring and has received the Lifetime Achievement Award from the Cauliflower Alley Club.
Les Thatcher's Q&A is scheduled for 3:30 to 4:00PM Eastern.  The full schedule of the events can be found on the Perennial web page HERE.
Tickets for the Filsinger Games Perennial 2022 can be found in the Filsinger Games store HERE.  There are options to participate in gaming tournaments or not.  All tournament winners will receive prizes.  All attendees will receive a collectible sticker and 2 exclusive Filsinger Games playing cards (1 for Legends of Wrestling and 1 for Champions of the Galaxy) that will not be available after the convention!