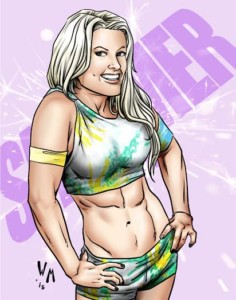 Women's wrestling is on a roll and at its most popular point ever today.  The revolution in women's wrestling didn't just start overnight, but had a great milestone ten years ago with the formation of SHIMMER Women Athletes.  This promotion has continued to showcase the best in women's wrestling since its inception.
The upcoming Shimmer 3 expansion pack will feature 8 of the best women athletes that you can add to your Shimmer game promotion! The first name announced for the set is one of the more popular names on the Indie wrestling scene today, Candice LeRae.  Candice has put on exceptional matches in Shimmer and will be given plenty of opportunities to continue to shine in the future.  Candice may be best known for her work in intergender matches throughout the Indies.
The fun-loving LeRae is part of the World's Cutest Tag Team with Joey Ryan and she has been part of a number of classic matches with Johnny Gargano in Absolute Intense Wrestling (including their last encounter at Battle of the Sexes 2 at Wrestling Geek Fest).
Shimmer returns to the ring for four big tapings on the weekend of October 10-11 in Chicago…you don't want to miss it!  The new Shimmer 8-pack will be available during that weekend and will begin mailing on October 15.
There are BIG things ahead for Shimmer and women's wrestling and with this new 8-pack YOU'LL be part of the revolution!