Labor Day is the the unofficial end of summer and beginning of fall.  What better way to start the fall but with some big announcements and the kickoff of preorders for our Fall releases.  Champions of the Galaxy, Legends of Wrestling and Indie Wrestling game fans all have something to be excited about!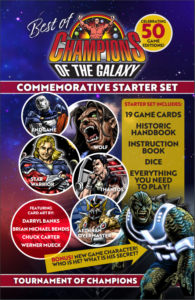 The much anticipated Best of Champions of the Galaxy: Tournament of Champions  starter set.  This commemorative starter set will celebrate the 50 game editions of the main Champions of the Galaxy story.  This set will feature 19 game cards and a handbook with not only descriptions of each charterer but also information on the history of wrestling's greatest game!  The starter set includes instructions, charts and dice.  Its a great way to get started with Champions of the Galaxy or just celebrate the legacy of this great game series.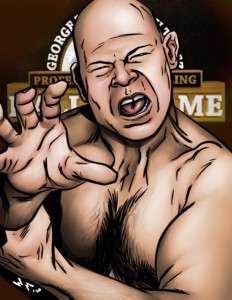 Baron Von Raschke is joining the Legends of Wrestling roster in the George Tragos/Lou Thesz Professional Wrestling Hall of Fame set! Von Raschke was a star throughout the territory system, but became an icon in the Midwest. The Baron started off as a feared rulebreaker, but ended his career as a fan favorite. He was a singles and tag team champion, teaming with the Crusher, Ivan Koloff, and Mad Dog Vachon, and battled stars such as the Road Warriors, Tony Atlas, and Jimmy Valiant.  And that, promoters… is all the people need to know!
The 4th duo to join the Best of the Indies Tag Team 2020 game edition is the Wildcards, Thom Latimer and Royce Isaacs.  They first started teaming last April at the revival of the most prestigious tag team title tournaments, where they won the wildcard battle royal to win the final spot in the tournament.  Although they lost in the tournament final, a strong partnership was formed and the pair went on to win one of the most storied tag team titles in the industry.  The Wildcards will be looking to challenge some of the top teams in the indies and of course are looking to settle the score in their rivalry with the legendary Rock and Roll Express.
To preorder any of these 3 games or any of our spring and summer game releases please visit our New Releases page.  These 3 games begin mailing by September 30th.