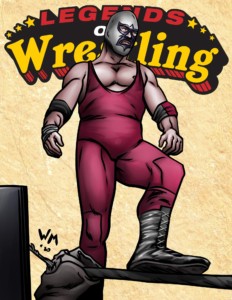 Get ready for a diverse roster of talent in Quarter 3 of Legends Promoter Prime!
The Spoiler also will make his Legends debut this quarter! The mysterious masked man competed around the globe during his outstanding career. He feuded with LOW talent such as Billy Red Lyons, Red Bastein, Jack Brisco, and Harley Race. The Spoiler teamed with King Kong Bundy and the Road Warriors, can a reunion be in the making?
Territorial standout Ric McCord will make his Legends debut. McCord wrestled in the East Coast, South, and Midwest territories during his career. His high flying scientific style is sure to delight fans everywhere!
As for the third competitor, we'll save that as a surprise for now. We can share that he is an award winner from the George Tragos/Lou Thesz Professional Wrestling Hall of Fame.
Check out Legends Promoter Prime Quarter 3, coming the end of September from Filsinger Games!