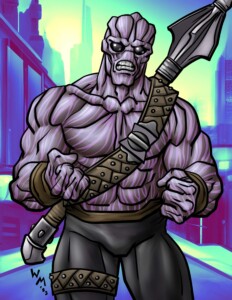 Oracle's machinations continue to progress. And he's not taking any chances. He's told Calamity that he needs more firepower, so the mercenary from CTA-102 is bringing in GORACK. And this isn't all. Calamity has a tag team partner for GORACK. It just might be the biggest tag team in CWF history.
But to what end? Why does Oracle need more muscle on his team? Up until now, he's been content to battle with Heritage. Does this move to bring in more strength foreshadow more headaches for Lance At-Las and the rest of the heroes?
Find out in FUTURE SHOCK 2118, the 4th installment of the Future Shock series is coming this spring. Future Shock: Centra Wrestling Federation 2118 is the latest release in our Champions of the Galaxy product line and will continue the exciting story of wrestlers from an alternate GWF timeline finding a new home in Centra. Preorders for FUTURE SHOCK 2118, Best of the Indies 2023 and Legendary Ladies 3 will go on sale Mid-March with a release date in April.