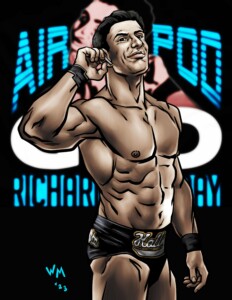 This year the Filsinger Games Independent Wrestling game line starts off with the 5th installment of the Best of the Indies.  What better way to start off the promotion of this game edition than with the "Most Marketable Man in Wrestling" Richard Holliday.  Holliday is known under many monikers including the "AirPod God" as he is often seen sporting his trusty AirPods before a match or interview. Holliday started his career in the New England area, but has since made a name for himself on the national scene first teaming with and then feuding with Alexander Hammerstone.  Turning on Hammerstone, he branched out on his own as the "Sole Proprietor" and is looking for more singles glory.
Unfortunately Richard Holliday's career was put on pause as he went through treatment for Hodgkin's Lymphoma, but thankfully he has completed treatment and is looking to make a return to the ring soon. Many folks in the wrestling business have high hopes for the future of Richard Holliday, although nobody has as high an opinion of his potential than Richard himself.
Best of the Indies 2023 is an 8 card expansion set featuring the best names in independent wrestling today. Preorders for Best of the Indies 2023, FUTURE SHOCK 2118 and Legendary Ladies 3 will go on sale Mid-March with a release date in April.