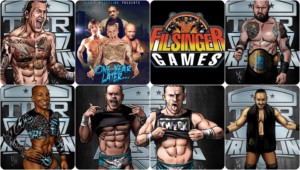 A free set of Tier 1 Wrestling 'One Year Later…' tickets, OR any two Tier 1 VODs of your choosing, could be in the cards for you if you order Filsinger Games Tier 1 game pack! Order the game pack by June 30th and be entered for a chance to win big! You could win the opportunity be at the Tier 1 anniversary event on July 10th with a friend for FREE (a $40 value), or you could download two free Tier 1 VODs from WWNLive.com (a $20 value). Don't hesitate order now and be a winner!
Can't wait until June 30th? Tier 1 is running a sale to catch fans up on all the excitement happening in this exciting promotion. Check out their past shows on WWNLive.com for only $4.99 each for a limited time!
http://wwnlive.com/ondemand-tier-1.html That's an incredible deal for checking out the hottest wrestling happening in the Big Apple!