For the 8th year in a row since 2014 Filsinger games is making available its popular subscription service Promoter Prime.  Like each of the past 3 years you can purchase bonus cards for the product line of your choice (Legends, Indies or COTG).  Cards are available printed for Tabletop use or digitally for the Online platform.  Game fans will get discounts when purchasing cards for all product lines or across multiple platforms.  3 cards per product line will arrive once per quarter, for a total of 12 cards per line in 2021.  Promoter Prime is available to purchase HERE!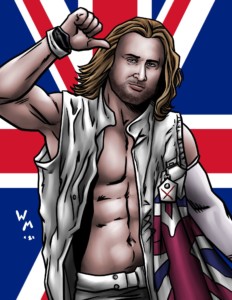 Indies Prime subscribers will be getting 3 cards in Q1 that will compliment the IWTV set that is coming out in March.  One of these cards is for British wrestling prodigy Ben Carter.  Carter was trained at the Black and Brave school in Iowa, and the past couple years has been on shows for a number of IWTV promotions.  More recently he has moved back to the UK and can be found on one of the biggest international platforms there is.  Carter is sure to be a standout for many years and will be a great compliment to your IWTV or British wrestling promotions.
Legends Prime subscribers will be getting 3 cards featuring new versions of existing color Legends wrestlers.  Stay tuned in the upcoming weeks for more details on these 3 cards.
Finally, Champions of the Galaxy Prime fans will be treated to 3 cards designed for the FTR promotion.  They will also get a PDF booklet featuring all new storylines for the FTR promotion.  The first of the 3 cards was first teased at the Filsinger Games Perennial in January…PARDON!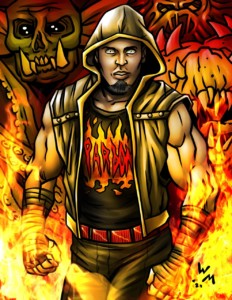 Pardon is a mysterious hardcore wrestler who claims to be the only fighter from Centaurus brave enough to enter into and battle the monsters of Brymstone on their own turf. Now he's entered into FTR and put the entire roster on notice!
"Pardon is here to relieve the roster from the pressures of success by defeating everyone in the FTR! No longer are you expected to be the future. No longer are you expected to become stars. From this point forward you are all pardoned from your responsibilities and expectations to excel. Pardon wishes you good luck on all of your FUTURE ENDEAVORS!"
Make sure to get your 2021 Promoter prime subscription now right HERE!  Our March releases Legends Expansion VII, War Games 2091 Reimagined and IWTV Indies Expansion, are also available for Preorder now!