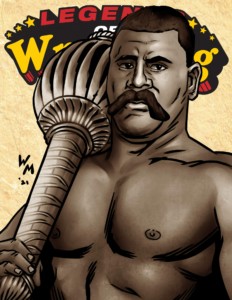 Five thousand Hindu squats. Two thousand Hindu pushups. Ten liters of milk. Six pounds of chicken. That's just a portion of The Great Gama's training and diet. He was described as being "strong as an ox and quick as a cat" and trained from the time he was five to be a wrestler. Born in the Punjabi region of India – modern-day Pakistan – Gama spent the bulk of his life training from sun-up to sundown and competed against some of the most noted grapplers of his time. Afraid of no one, he laid out challenges to both Frank Gotch and George Hackenschmidt. Matches that unfortunately never materialized. Until now!
The Great Gama is coming to Legends of Wrestling in the new expansion pack, and promoters will finally be able to pit one of the most sudden, strongest, and well-conditioned wrestlers of the pioneer era against all-comers. Will Gotch and Hackenschmidt be able to hold off the challenge of Gama? How will Gama stack up against more modern legends? Answer these questions and more when Legends Expansion VII drops in March!
Also included is Legends Expansion VII is a set of alternative charts for choices, into the ropes, into the turnbuckle and out of the ring that better reflect the style of the vintage era of wrestling.
Legends Expansion VII and our other March releases, War Games 2091 Reimagined and IWTV Indies Expansion, are available for Preorder now!  You can also now subscribe to Promoter Prime for 2021 and receive 3 cards each quarter for Legends, Indies and COTG.  Promoter Prime is available to purchase HERE!