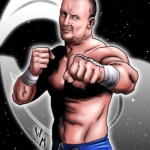 The newest name for the Ring of Honor Summer 6-Pack is the hard hitting Ring of Honor veteran BJ WHITMER!
Trained by the legendary Les Thatcher, Whitmer first joined the Ring of Honor roster a decade ago. He captured multiple tag team championships in his tenure before resigning from Ring of Honor back in 2008. He made his much called for return to ROH early in 2013 in a Proving Grounds match against TV Champion Jay lethal. Whitmer has not lost a beat in his absence and proved himself worthy of rejoining the roster, picking back up a feud with former partner Jimmy Jacobs. Whether
he is challenging for a title or taking the fight to SCUM, BJ Whitmer will always bring his all and continues to build his legend in Ring of Honor!
The new ROH 6-Pack will begin mailing at the end of the month! Get psyched!