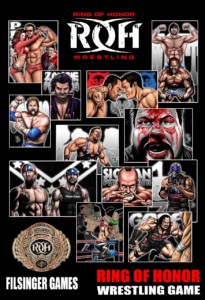 Wrestling's most anticipated new game is ready to pre-order! The Ring of Honor Intro Set will begin mailing on Nov 29 and YOU can be among the FIRST to receive it by pre-ordering right away! Don't hesitate, there will be high demand and we'll be mailing out in the order that we receive pre-orders!
Go here to pre-order or go to our original online store by going here. You can order the intro set that comes with charts, dice, instructions, etc (everything you need to play) or if you already have our game charts and stuff you can just order the Ring of Honor Cards and Handbook. We aim to please!
We also posted the ROH handbook cover for you to see! Hope you love it as much as we do!
Get psyched: the time is nigh for you to start your very own ROH fed as the main booker! Start planning your first major events because it's not far away!