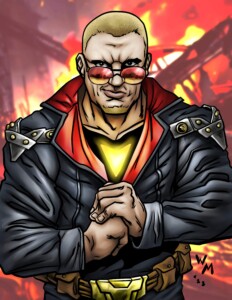 STAR SLAYER has been in the wrestling business for nearly 35 years, across two dimension and three timelines. The wear and tear on his body is catching up to him. Don't misunderstand. While STAR SLAYER can still get up for a big match, he clearly needs to pace himself if he's going to extend his in-ring career.
STAR SLAYER isn't one to quit, so he is changing his style again and focusing more on tag team wrestling. Supernova Explosion will still be a formidable tag team. He will also team up with another member of the FDF. Is it Paganax? Or is there a new member of the team?
The answers come in FUTURE SHOCK 2118, the 4th installment of the Future Shock series, coming this spring. Future Shock: Centra Wrestling Federation 2118 is the latest release in our Champions of the Galaxy product line and will continue the exciting story of wrestlers from an alternate GWF timeline finding a new home in Centra. Preorders for FUTURE SHOCK 2118, Best of the Indies 2023, Legendary Ladies 3 and Promoter Prime 2023 will begin March 24th with a release date in April.