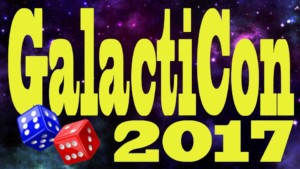 For longtime Filsinger Games and Champions of the Galaxy fans the best weekend of the year is nearly here.  It's GalactiCon weekend this Friday to Sunday July 7-9.  With that comes the release of the latest Champions of the Galaxy game edition, Regime Change 2133, and the exclusive release of the King Kong Bundy Legends of Wrestling color card!
It all kicks off Friday July 7th at 5 PM at Chautauqua Comics (214 Fairmount Avenue, Jamestown) for the kickoff tournament.  The party then moves to Brazil Craft Beer and Wine Lounge (10 E 4th St, Jamestown)  at 6 PM for the exclusive release of the 2133 game edition.  COTG fans will be enjoying beverages, reading the latest stories and chatting up with fellow promoters.
Saturday is when all the big-time action starts with the GalactiCon convention kicking off at 11 AM at Jamestown Community College (525 Falconer Street, Jamestown).  Fans will get a free copy of the King Kong Bundy color card with their entrance fee.  Joining us at the convention are "Black Sheep" Bennett Cole, announcer Ken Kingsley from Southern Tier Wrestling, and the ring announcer from Wrestle Circus Louden Noxious!
We will start with a large block of tournaments, including the annual Canada Cup!  Then 1:30 to 2:30 are the tradition Trivia Contest and Charity Auction.  After a lunch break, Tom Filsinger will have his Q&A to answer anything COTG and Filsinger Games related from 3-4 PM.  Then we get back to tournaments until 7 PM when a new GalactiCon Cup Champion is crowned.
Sunday morning we will have a final goodbye for all still in town with breakfast at 10 AM at Friendly's (10 S Main St, Jamestown).  For all the details check out the GalactiCon Website HERE.
Can't join us in Jamestown?  Be on the lookout on this site Friday evening for the PDF download of the 2133 handbook.  And be sure to pre-order your copy of Regime Change 2133 and the King Kong Bundy Color Card.  New items begin shipping next week!