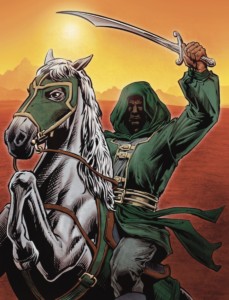 Who is this mystery man from Istanbul on Earth?
He claims to have lived for centuries and his name is spoken with hushed whispers of his terrifying conquests on Earth.
He will arrive in the GWF with his deadly sword, Ninkarak, and his trusty steed, Manaf. His finisher, "CRY NINKARAK" will be deadly!
Zulfiqar has targeted several enemies in the GWF including none other than Shayne, another Earth wrestling superstar. But why? Can the rattlesnake survive the attack of this mysterious and unorthodox foe?
The answers are coming in ORIGINS 2138 next month! The drama builds as this game edition will bust things wide open!