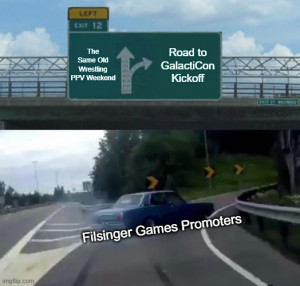 The next Filsinger Games virtual event will actually be a 2 day event April 10-11, to kick off the Road to GalactiCon this July.  As usual we will have panels featuring the Filsinger Games staff and game tournaments featuring our game latest releases.  Upcoming new releases for the spring and summer will also be announced.  This will be spread over 2 days with Legends and Indies on the 1st day and Champions of the Galaxy the 2nd day.
Here is the full schedule.  All times in Eastern.
Saturday April 10 – Legends and Indies
2:00 – 2:45 – IWTV Independent Wrestling Championship Tournament
2:45 – 3:30 – Vintage Era Legends Tournament
3:30 – 4:00 – Indies Panel
4:00 – 5:00 – Legends Panel
Sunday April 11 – Champions of the Galaxy
2:00 – 2:45 – FTR Tournament
2:45 – 3:30 – War Games 2091 Tournament
3:30 – 5:00 – COTG Panel
The events are free but you need to register.  When registering you will have the option to participate in a tournament.  Spots are limited and we will try to accommodate as many people as possible during the weekend.  Click these links to register:
Road to GalactiCon Legends and Indies Kickoff
Road to GalactiCon Champions of the Galaxy Kickoff
Don't miss it!