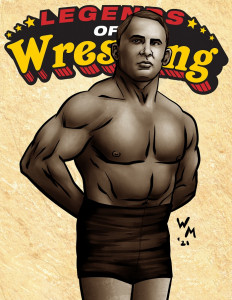 What more can be said about one of the most fearsome and dominant draws of the golden age of professional wrestling?
Ed "Strangler" Lewis was a 5-time World Heavyweight Champion, and of an estimated six thousand matches, he lost only 32. A peak moment of his nearly 43-year career came at Wrigley Field in 1934 against Jim Londos for over thirty-five thousand fans. The record-breaking gate stood for nearly 20 years. Lewis went on to manage and train some of the biggest stars of the next generation, including Lou Thesz and Danny Hodge.
Promoters will have the chance to book so many dream matches with Ed "Strangler" Lewis. Will he face his namesake, Evan "Strangler" Lewis, or will they team up? What about pioneers like Gotch and Hackenschmidt? Or his protege, Lou Thesz? Harley Race, Jack Brisco, Randy Savage, Vader – the list goes on. All of these matchups can happen in your ring, Promoter, when Legends Expansion VII arrives.
Promoters will not want to miss out on adding this legend to their roster of talent. Pre-order now, along with the IWTV Indies Expansion and War Games 2091. You can order HERE.