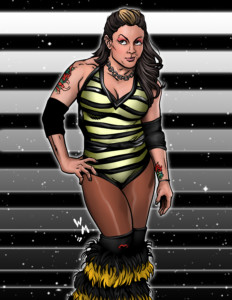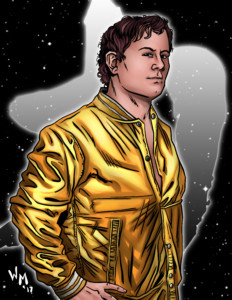 The CHIKARA tag team division has always been a strong part of the promotion with classic teams like the Colony, Osirian Portal, and FIST dominating for years. Now a new crop of tag teams has emerged in CHIKARA and the future looks bright. While many of the headlines have been stolen (literally at times) by Crummels and Defarge, one new unexpected tag team may end up being the best of all and that team is the Rumblebees!
Travis Huckabee has been a long-time trainee at the CHIKARA Wrestlefactory, specializing in technical wrestling skills under the likes of Drew Gulak. In 2016 he served as a referee who often made some questionable calls but always stuck up for what he thought was right and refused to be bullied. This attitude showed at the Season 16 finale, when he stood up for Solo Darling after her upset win over the massive Max Smashmaster.
That incident sparked a friendship between Darling and Huckabee, and Travis decided to turn in his referee shirt for a pair of wrestling trunks and join the CHIKARA roster as an active wrestler. So far the duo has had its moments as a tag team, but have not ended up on the winning side of many tag matches just yet. However, they may get their chance to become CHIKARA Campeones de Parejas, since Solo Darling recently won the 3rd Infinite Gauntlet and a Golden Opportunity. That Golden Opportunity allows her to skip the process of collecting 3 points and automatically challenge any champion of her choosing. If they get the chance can they unseat the seemingly unbeatable Crummels and Defarge?
Solo Darling and Travis Huckabee join Darkness Crabtree, Private Eye and Crummels and Defarge, along with 2 more wrestler's from CHIKARA's past in this unique 8-pack that showcases the great past and awesome future of CHIKARA. The CHIKARA Aniversario pack will begin mailing everywhere on May 31st!