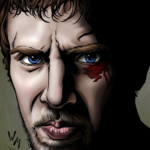 One of the founding fathers of Ring of Honor, Bryan Danielson fought to earn his reputation as one of the best wrestlers in the world from day one and helped put ROH on the wrestling map. Filsinger Games and Ring of Honor celebrate with the official prime ROH Bryan Danielson playing card! This one of a kind collector's item represents Bryan Danielson in his prime during a ROH World Title reign that will forever stand tall in ROH's history books.
The Bryan Danielson playing card you have been waiting for is here! The American Dragon begins a new journey and starts a new tradition in your Ring of Honor fed beginning this summer!
This Bryan Danielson card will be available as a Limited Edition card separately from ROH: Tradition of Honor. That means 7 new cards (6 in Tradition of Honor pack) are coming your way! Bryan Danielson fans – rejoice! Here is another awesome card to add to your collection!