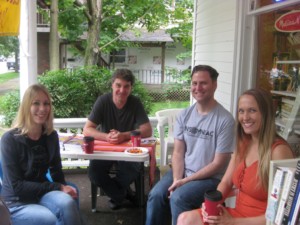 Tom's book signing tour for his new book "Shadows on the Road" had a successful stop in Lakewood, NY on Sept 6. Friends and newcomers came to "Off the Beaten Path" book store to purchase the book and hang around for conversation on
the front porch.
A promotional release from the "Off the Beaten Path" store said: "Tom's road trip and California adventures are sure to please the armchair traveler in all of us."
Check out "Shadows on the Road" to learn more about Tom's attempts to get Champions of the Galaxy turned into a movie or TV series. There are plenty of inside stories about Hollywood and wild adventures along the way.
Go to Tom's new web site for more info and how to order the paperback book or e-book.