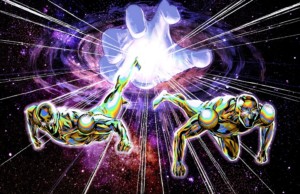 Another new mystery is coming in ORIGINS 2136!
Two newcomers are invading the GWF! For now all that is known is they are called the Chameleon Creatures. Wait till you learn their origin!
It's all coming soon in ORIGINS 2136, which is the landmark 50th edition of Champions of the Galaxy! Pre-order right this second so that you get it as soon as it begins mailing!
GWF Origins 2136, a Legends 2-Pack for the Long Riders ("Wild" Bill Irwin and Scott "Hog" Irwin) and a Special Edition card for "Cowboy" James Storm are all on sale right now for preorder.  All of these cards are scheduled to mail by July 6th, and should arrive to many in the US in time for GalactiCon.  Tickets for the first ever Virtual GalactiCon are also on sale now.  To order any of these click HERE.