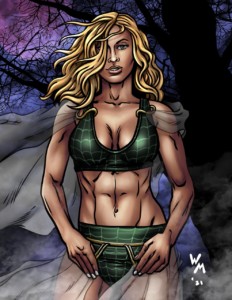 It's time for a new FTR set! And this one will be the biggest FTR game edition ever! 10 brand new awesome playing cards coming your way this holiday season!
We're keeping the name of this new FTR direction under wraps for now. Can you guess where things are going next in our big murder mystery? Commissioner Sonny Rocket wishes you would forget about it all together! And he's doing his best to make some big new moves to pull your attention away from the mystery and put it back on him and all the action inside of the FTR ring!
Wait until you hear about the amazing new bonus items to be included FREE with the purchase of FTR Sc…whoa! We almost gave it away!
Get ready for Sonny Rocket's big diversion – the Future of Wrestling is Here campaign! Commissioner Rocket has sent his top scouts far and wide on a mission to bring the hottest independent wrestlers in the galaxy to FTR! And nobody is hotter than WITCH!
WITCH is an enigmatic newcomer who has been accused by the natives of her planet of being pure evil! What did she do to earn such distain? As a result, Witch has been run off her home planet with warnings to others not to trust her and her temptations! Will FTR take these warnings seriously or has Sonny Rocket opened his doors to a monster?
Find out about it all this winter with the biggest FTR expansion to date!  FTR Set 3, along with Legends Expansion VIII, Women of the Indies 2021 and more will be available for preorder starting November 26 and will begin shipping in December.