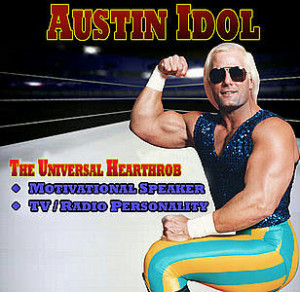 This coming Sunday October 17 will be the next Filsinger Games virtual game convention, the 2021 Holiday Kickoff.  The festivities will run from 1PM to 6PM Eastern, featuring online game tournaments, a Q&A with the Filsinger Game staff and announcements about upcoming releases.  On top of that we will be joined by wrestling legend and the founder of the Universal Wrestling College, the Universal Hearthrob Austin Idol!  Austin will be there to entertain Filsinger Games fans and answer your questions.  Who knows what other surprises Austin may announce.
Everyone who purchases a ticket for the virtual event will receive a limited edition Legends playing card that will only be available to convention attendees.  Attendees will also receive the first in a series of Filsinger Games collectible stickers.  If you can't make the event but still want the card and sticker, no problem, everyone who purchases a ticket will get the items even if they don't log in during the convention time.
If you would like to participate in one of the virtual tournaments make sure you buy your ticket and fill out the survey you are sent before 8PM Eastern this Thursday October 14th.  Tickets will be available to purchase up until the start of the convention.  They are $10 and are available HERE.
SCHEDULE OF EVENTS
Sunday October 17, 2021 (All Times Eastern Daylight Time and Subject to Change)
1:00 to 4:00  Main room is open for discussion while tournaments are taking place. Tom Filsinger (and perhaps the Dark Menace) will make an appearance between 1:30 and 2:30 and will be in a separate room for those that dare join the Dark Menace's Lair.
1:00 to 1:45  Indies Deathmatch Tournament
1:45 to 2:30  Battle for Centra 2117 Tournament
2:30 to 4:00  Legends World Champions Tournament
4:00 to 4:30  Austin Idol interview and Q&A
4:30 to 6:00  Panel Discussion with the Filsinger Games Staff Discussing Newest Games, Upcoming Releases and Events