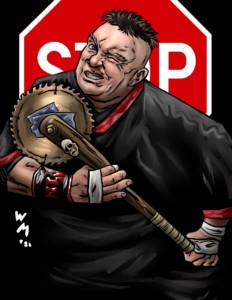 The deathmatch theme continues into Indies Prime in Q3, as all 3 cards released this quarter will compliment that Indies Deathmatch 2021 game edition.  When you think of deathmatches, one name that comes to the forefront is the deathmatch legend Mad Man Pondo.  Pondo will be part of Indies Prime and will be bringing his saw bat, stop sign and cinderblock with him!  He is joined by the previously announced new cards for Rickey Shane Page and Justice Pain.  Between the new Indies Deathmatch set, Indies Prime and the Nick Gage special edition card, your Indie promotion is sure to get a whole lot more violent!
To subscribe to Indies Prime or any of the other Promoter Prime products click HERE.  You will receive all the cards from the first half of the year plus the cards in Q3 and Q4.
FUTURE SHOCK 2117, Indies Deathmatch 2021, the Nick Gage Special Edition card and the Legends 2021 Special Edition 4-pack are now available for pre order HERE.  Games will begin shipping shortly.