Ace Romero Barges His Way Into CZW Game
Categories: Uncategorized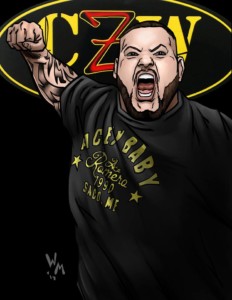 The latest addition to the CZW game is one of the Combat Zone's newest competitors and certainly one of its largest.  But don't let Ace Romero's size fool you, he is insanely agile for his size and is out to prove himself to the CZW faithful.
Acey Baby comes from Maine and wrestled all over the New England scene before making his CZW debut in July.  He surprised many by winning the 10-man Aerial Assault match in August, which earned him a CZW Wired title shot in September.  Unfortunately that title opportunity was spoiled by Greg Excellent, who took exception to Romero joining CZW as another big man.  Their first Hoss Battle ended in a no contest, but this rivalry is just getting started!
Ace Romero joins Sami Callihan, MJF and The Rep in the newest CZW expansion.  Keep an eye out the rest of October for more names in the CZW 5th edition game pack.  The game will be released in early November and will be available at the Night of Infamy show on November 11th. Preorder begins next week!