Jonathan Gresham Looks to Make the ROH Roster Tap!
Categories: Ring of Honor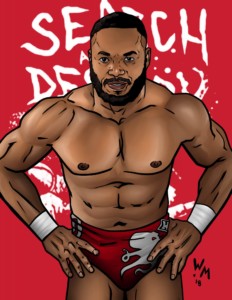 The next wrestler joining the Ring of Honor Death Before Dishonor 8-pack is a new wrestler to the ROH series, but one familiar to Filsinger games fans, Jonathan Gresham.  Gresham is a premier technical wrestler, who is gifted in grappling and a variety of submission holds, including his patented Octopus Stretch.  He made his initial ROH debut in 2011 Top Prospect tournament, but didn't become a regular in the promotion until the last two years.  Gresham was part of the Search and Destroy stable, but is focusing on singles competition and is using his "Pure" wrestling style to work up the ranks in Ring of Honor.
Jonathan Gresham will join Sumie Sakai and Brian Milonas and five other wrestlers in the Death Before Dishonor 8-pack.  The Ring of Honor Death Before Dishonor game pack will be available this December along with the other Filsinger Games holiday releases from Legends of Wrestling and Champions of the Galaxy.  Preorder begins this week on Black Friday November 23!