The Galaxy's Greatest Alien Joins the Women of the Indies Roster!
Categories: Uncategorized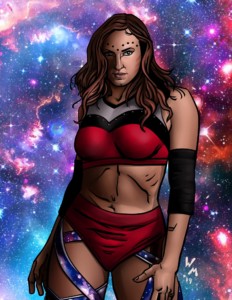 Debuting on the independent wrestling scene 2 years ago was a woman with unearthly wrestling abilities and now she joins the Women of the Indies 2019 set, its Kris Statlander!  She claims to have recently escaped from Area 51, but received her wrestling training on Long Island, NY.  Statlander has burst onto the scene with phenomenal matches against both men and women, capturing gold along the way including the prestigious Independent Wrestling Championship.  The Galaxy's Greatest Alien hails from the Andromeda Galaxy, which is sure to please Champions of the Galaxy fans.  This alien competitor is sure to continue to make her name in the pro wrestling world here on Earth for as long as she continues to compete before perhaps one day returning to her home planet.
Kris Statlander joins Xia Brookside, Holidead, Scarlett Bordeaux, Allie Kat and Kris Wolf in the Women of the Indies 2019 8-Pack.  The set will debut in September alongside the Best of the Indies 2019 8-Pack which features 8 of the top male indie wrestlers in 2019.  Both games are available for preorder now, by going HERE.  Games will ship by September 30th.