Pirata Morgan is Sailing into Your Indie Promotion!
Categories: Uncategorized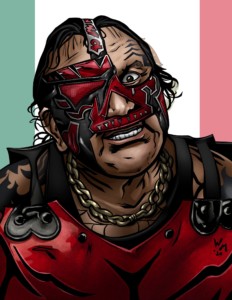 Ahoy, Bucaneros! One of the most decorated and famous luchadors of all time, Morgan is looking to truly make a splash.  For most wrestlers, losing an eye mid match would be career ending, but for Morgan, it was an opportunity to be seized. Wearing an eye patch for the rest of his career and working a rudo (heel) gimmick based on a pirate known for his cruelty, Morgan traveled the world, honing his craft in the most famous promotions in both Mexico and Japan.
In his native country, Morgan excelled as both a tag and singles wrestler. By the early 90s, Morgan was part of one of the best known trios teams of all time, and also working as a major heavyweight championship contender in singles competition. While perhaps best known for the lengths he would go in bloody mask vs hair apuestas matches, including one shocking match that was stopped when Morgan was bleeding heavily from under his eyepatch, Morgan shouldn't be overlooked as a truly great technical wrestler. His mastery of almost every hold practiced in lucha libre helped him succeed in the more technical world of lucha libre title matches.  Morgan will look to test himself against the best Mexico has to offer today along with many of the Legends of the 90's he never got to face in the ring.
Pirata Morgan joins Mil Muertes, Daga, Flamita, Demus and Laredo Kid in the Best of Mexico 8-pack.  Preorders are now available for Best of Mexico, Legends Ladies Expansion II and Future Shock: Centra Wrestling Federation 2116!  To preorder now CLICK HERE.  Preorders for all game editions will begin mailing by March 31st!