Tommy End Looking to Footstomp His Way Through EVOLVE 2!
Categories: Evolve Wresting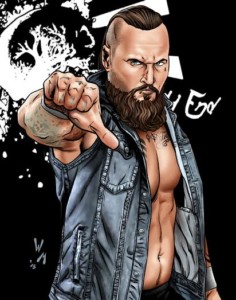 The final name to be announced for the awesome EVOLVE 2 expansion pack is a newcomer who was
endorsed by the "Knockout Artst" Chris Hero. Although he's new to Evolve, Tommy End is no stranger to wrestling fans. End has made a name for himself on the European wrestling scene, sporting an effective kickboxing style. One of his biggest rivals is Zack Sabre Jr., who the Dutch native defeated to win one of Europe's biggest pro wrestling tournaments. And now Tommy End is trying to make a name for himself in the United States! He made his debut in the WWN Live weekend of events in California. Although he lost some close, hard-fought matches against the likes of Biff Busick and Timothy Thatcher, he did a lot to impress Evolve officials. Can Tommy End get revenge against these competitors in your Evolve fed? You'll find out! EVOLVE 2 is ready to pre-order and begins mailing on April 15, which
is coming soon! You'll also want to add the awesome CAC Reunion pack to your order, which is being released at the same time! Is there such a thing as TOO MUCH wrestling game excitement? Answer: NO! Go here to order!